Tutankhamen (or Tutankhamun) was the twelfth Pharaoh of the 18th Dynasty (third to last of the 18th Dynasty). Also known as King Tut, he is famous because of the great treasures discovered in his tomb by Howard Carter in 1922.
See list of Pharaohs.
18th dynasty 1333 - 1323 B.C.E., married to Queen Ankhesenamun (originally Ankesenpaaten), who may have also been his sister. There is debate as to whether he is the son of Pharaoh Amenhotep III (but not by the royal Queen Tiye) or son of Pharaoh Akhenaton and Queen Smenkhkare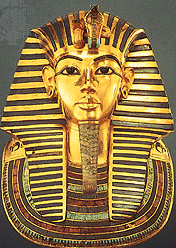 golden face mask


hieroglyph cartouches for Tutankhamen
Tutankhamun (or Tutankhamen or Nebkheperura, originally Tutankhaton), was the twelfth pharaoh of the 18th Dynasty, ruled for nine years. His name means the "Living Image of Amun" (Tutankhaten meant "the Living Image of Aten").
Tutankhamun came to power at the age of nine after the murder of his mother and father, who had attempted to introduce monotheism into the ancient Egyptian religion. Tutankhamun restored the ancient Egyptian (Kemetic) religion and moved the capital back to Thebes. He had two stillborn girls by his wife (and possibly sister) Ankhesenpaaten.
His vizier Ay immediately succeeded Tutankhamun upon his death, but then was replaced by Tutankhamun's general Horemheb. Horemheb ordered that the names Akhenaton, Tutankhamun, and Ay be chiseled out of all monuments. Tutankhamun's name became forgotten among the Egyptian people.
Tutankhamun's name was found only on a few buildings and small art objects until the discovery of his tomb in 1922.
Licorice sticks were found in the tomb of Tutankhamun.


Tutankhamun's mummy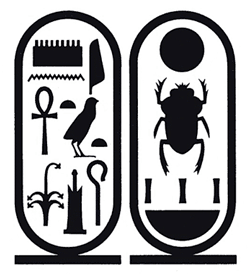 birth name (left) and throne name (right)