L-Tryptophan is a neutral, genetically coded, essential amino acid (meaning that the human body can't produce it on its own). It is essential in human nutrition.
Trptophan and triptophan are mis-spellings.
nutritional information:
When referring to amino acids, the words "essential" and "non-essential" don't have their normal meanings. Essential amino acids are amino acids that the human body can not produce on its own and must gather from food sources. Non-essential amino acids are amino acids that the human body can produce on its own. Both kinds are required for human health.
Tryptophan is a natural sedative, but contrary to popular myth, the tryptophan in turkey does not cause Thanksgiving Day drowsiness. There isn't enough tryptophan in turkey to have that effect. For the amino acid tryptophan to work on the brain, the stomach must be empty and have no amino acids present.
[Tryptophan is] a natural relaxant, helps alleviate insomnia by inducing normal sleep; reduces anxiety & depression; helps in the treatment of migraine headaches; helps the immune system; helps reduce the risk of artery & heart spasms; works with Lysine in reducing cholesterol levels.

—courtesy of Austin Nutritional research
Sources of tryptophan include: bananas, beans. chocolate, dried dates, hemp seed meal, oats, peanuts, sesame, and soy beans.
Additional sources of tryptophan (that should be avoided because they are animal products) include: fish, meat, milk, yogurt, cottage cheese, beef, chicken, and turkey.
tryptophan-rich foods
scientific information: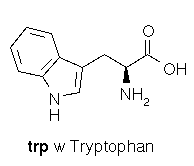 Tryptophan is a precursor for serotonin (a neurotransmitter), melatonin (a neurohormone), and niacin. The functional group of tryptophan is indole.
three letter abbreviation: trp
one letter abbreviation: w
linear structure formula: Ph-NH-CH=C-CH2-CH(NH2)-COOH
molecular formula: C11H12N2O2
systematic name: (S)-2-Amino-3-(1H-indol-3-yl)-propanoic acid
molecular mass: 204.23 g mol-1
molecular weight: 204.23
melting point: 289°C
isoelectric point (pH): 5.89 (neutral)
pKa values: 2.38, 9.39
CAS Registry Number 73-22-3
EINECS Registry Number 200-795-6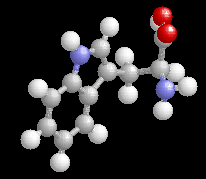 Trptophan is a mis-spelling.
Ayurvedic herbalism:
According to Dr. Ram of The Healing Gardens, "L TRYPTOPHAN: Helps relax, promotes healthier sleep patterns. It is a precursor to serotonin. Low serotonin levels in the brain can cause irritability, anxiety, and sleeplessness."
L-Tryptophan is used in Dr. Ram's Sleep Solution, an Ayurvedic herbal sleep aid.
For more information, see the article on Ayurvedic medicine.

See also: amino acids