Love Spell
An updated version of this web page is now available at the new Teen Witch website love spells.
Undoing love spells: You can find a spell for reversing love spells at: myrrh or at sage. Using sage costs less and is easier to do, but using myrrh is more reliable.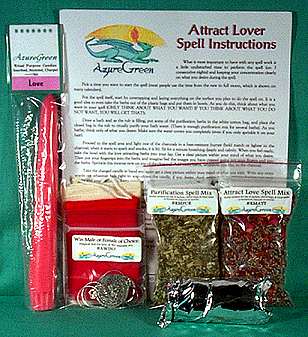 Ritual Kit: Attract Lover
"Ritual Kit: Attract Lover: Our own, highly effective ritual kits to aid you in achieving your desires. Each kit contains: 1 Charged Ritual Candle; 1 pkg. Incense; 1 pkg. Spell Mix; 1 pkg. Charcoal; 1 pkg. Bath Salts; 1 Amulet; plus detailed instructions on their use." — Earth Spirit Emporium (note that products and availability may change over time)
So, you wanna play with love spells? Here is an authentic Kemetic (ancient Egyptian) love spell:
Put a rose under the pillow of your intended while he or she is asleep.
Now, the really cool thing about this particular love spell is that it implies an ethical approach to spell-casting.
Ignoring "Mission-Impossible" style subterfuge, this spell can only be cast on a person who would give you free access to their sleeping quarters while they are asleep. That implies an already existing bond, a level of personal trust. It implies consent.
Some persons believe in magick. Some don't. For those who do believe, magick has a real effect on the physical and spiritual realm.
Many of the same principles of ethics apply equally to both magickal and non-magickal situations.
Using magick on another person without that person's expressed consent is akin to practicing surgery without informed consent. No matter how strongly the surgeon considers the surgery to be in the best interests of the patient, the surgeon must have the informed consent of the patient. The surgeon can not force a person to have surgery.
Similarly, a witch (or anyone else) must have the informed consent of any target of a spell.
Yes, there are exceptions — cases where obtaining informed consent is not possible, such as a surgeon can perform emergency surgery on an unconscious patient or a parent can grant informed consent on behalf of his or her baby.
In the case of love spells, casting a love spell on another person without that person's informed consent is just as wrong as a surgeon kidnapping someone and performing elective surgery.
So, the above mentioned love spell is an example of ethical use of magick. You ask the person who is the intended target if he or she wants you to perform a love spell on him or her. If the intended target of the spell grants permission, then go for it. With the Goddess' blessing.
The Rose amulet is very easy love spell. See rose.
The love bath is almost as easy and is very relaxing love magick.. See love bath.
no spell begging
If you follow any of the links offered on this web site, no spell begging. Especially no love spell or curse begging.
love spells on the web
questions
Lauren asks:
ok well my name is lauren and i live in Australia, and for the last two years i have become very interested in witch craft. A while ago i cast a spell on a boy that i liked, i think it was called the valentine soup. anyway, i poured this spell on a flower, and as the flower grew this guy started to like me, and he eventually asked me out. we'd been going out for ages, but one day he dumped me. i was totally heartbroken. when i got home i went straight to the flower, and it wasn't there. Mum had cut it and put it in a vase. did our love die because mum cut the flower? i dont know if i am a witch or not. I think i am, most of the people at school are scared of me, they say i look like a witch. Do you think i am a witch?
—Milo

This website gets more traffic than your website.
I am available.
Donations needed:
Please send donations to:
Milo
P.O. Box 1361
Tustin, Calif.
92781
USA

MichaelM offers TeenWitch t-shirts.


songs


Enigma
techno rock

Amazing
heavy metal

casting
circle

Time Heals
love song

This Side
of Sanity
free Witchcraft lessons
Free lessons on Witchcraft, ancient Goddesses, astrology, and nutrition in the Costa Mesa/Newport Beach area. I will teach you what you need to know to be a successful priest, priestess, or witch, including the ability to perform weddings and readings. For more information read Witchcraft lessons.



private and small group lessons
Contact Milo for information on private and small group lessons in Costa Mesa and Newport Beach, California. Tutoring in Witchcraft, chess, guitar, English grammar and writing, history, or computer programming. Low cost or free for the poor. Recommended donation of $25 an hour (or $15 for half an hour). Minors need written permission from parent or guardian. Send a self-addressed stamped envelope to: Milo, PO Box 1361, Tustin, California, USA, 92781.

A few recommended local services: guitar repair, Macintosh repair, raw food, recording studio, search engine optimization, and sign painting.
---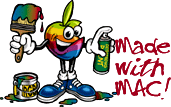 This web site handcrafted on Macintosh computers

using Tom Bender's Tex-Edit Plus

.

---
Copyright © 1999, 2003, 2006 Milo the Witch.

If you spot an error in fact, grammar, syntax, or spelling, or a broken link, or have additional information, commentary, or constructive criticism, please contact Milo the Witch at PO Box 1361, Tustin, California, USA, 92781.

updated June 26, 2006

May the Goddess grant YOU love, peace, joy, bounty, and wisdom.