The native ancient Egyptian religion included both an official state religion (led by Pharaoh) and a wide variety of local, family, and personal religions practiced by the people.
The native Kemetic (ancient Egyptian) religion was highly celebratory, contrary to the popular image of a death cult. The ancient Egyptian people held a large number of celebrations and holy days.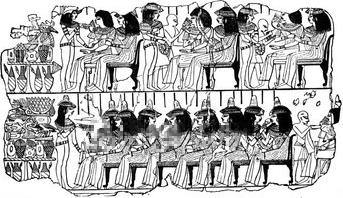 The central concept of the ancient Egyptian religion was Ma'at. Ma'at doesn't translate easily into English. Ma'at was a combination of cosmic order, cosmic balance, right order, truth, justice, and honor.
The ancient Egyptian (Kemetic) people believed magick infused the entire working of the world.
Some modern believers attempt to recreate the traditional historical religion of the ancient Egyptians.
Archaeology shows that the native ancient Egyptian religion underwent huge changes over its history. Some things stayed remarkably static, especially the hieroglyphs (medu ntr). There were also variations based on locale. Believers who practice historical ancient Egyptian religion can either pick a specific time and place or they can pick and choose from the broad variety of the past.
Believers will find that there are still large gaps in archaeological knowledge of the entire range of ancient Egyptian religion. Some believers fill in the missing parts with their own beliefs and/or beliefs frm other systems. Some believers channel, divine (as in divination), or use some other non-archaeological method of discovering the past.
In addition to the historical ancient Egyptian variations, there were also many ancient religions thaat were derived from the ancient Egyptian, the most famous being Isis worship by Hellenists and others, Bast worship in the Roman Empire, and Easter worship among the Germans and Teutonic peoples. Isis worship and Bast worship were the two most commonly practicied religions among women in the Christian Roman Empire (originally Christianity was an exclusively male religion).
The best known of the traditional ancient Egyptian religions is Kemetic Orthodox.