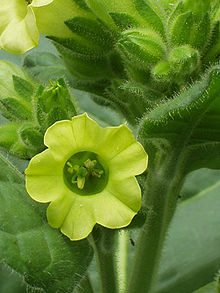 Photographed by William Rafti of the William Rafti Institute
Tobacco is a plant and an herb.
botanical information:
Botanical name: Nicotiana spp.
Common name: tobacco
Use the botanical name when ordering seeds (bulbs, etc.) or when looking up information in the library. Common names vary by nation, culture, and region, and sometimes the same common name is applied to different plants.

Family: Solanaceae (nightshade)
origin:
Origin: North America, Central America, and South America
history: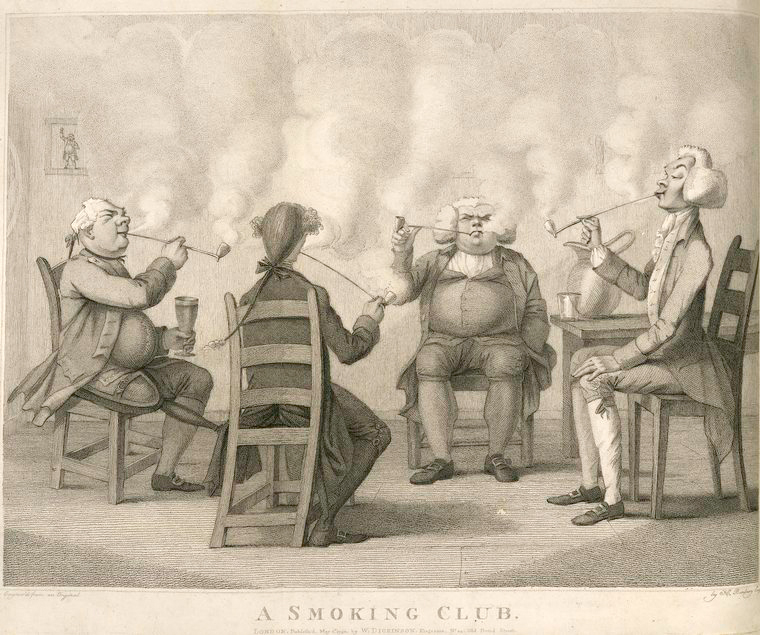 "A Smoking Club" — An illustration included in Frederick William Fairholt's Tobacco, its history and associations., 1859, from the collection of the New York Public Library's Digital Library
nutritional information:
A common American reason for acidosis (acid overload) is the nicotine in tobacco.
astrological correspondences:
Astrological planet: Mars


magickal correspondences and uses:

Mars spells: Tobacco (as an herb) may be used in as an ingredient or substitute for magick spells and formulas related to Mars matters (aggression, courage, defensive magick, exorcism, healing after surgery, hex-breaking, lust, physical strength, politics, protection, sexual energy, sexual potency, and strength). Be careful about substitutions for preparations that will be ingested or come in contact with the skin. These substitutions do not apply to medical uses. See the article on Mars for a list of herbal substitutes for tobacco.
Magickal substitutions: Tobacco may be used as a safer substitute for any poisonious herb from old spells (see list below). Rosemary usually may be safely substituted for any herb in magick spells and rituals. Roses may safely be substituted for any flower.
tobacco may be substituted for any of the following poisonious herbs:
deities associated with tobacco:
Tobacco is one of the sacred herbs of Xochipilli, the "Flower Prince", also known as Chicomexochitl, "Seven Flower" and Macuilixochitl, "Five Flower", the Aztec deity of fertility, agriculture, maize (corn), flowers, entheogenic plants, art, beauty, writing, painting, dance, song, and games. Xochipilli was the patron of homosexuals and male prostitutes.
cautions and contraindications:
Cautions and contraindications: Causes cancer and a bunch of serious lung and heart diseases.
Combining alcohol and tobacco greatly increases the risk of cancer compared to either alcohol or tobacco alone.
Some herbs may be poisonious under some conditions. Exercise appropriate care.
Wild gathering: Avoid wild gathering. Some plants are endangered species. Some plants can be toxic just by touch. Even experts can make deadly misidentifications of wild plants. Please grow your own herbs in your own goddess garden (or window boxes).


See also: herbs.