Narmer was the first Pharaoh of Kemet (ancient Egypt). This Black Nomarch united the two lands, Upper Egypt and Lower Egypt.
1st dynasty c. 3100 B.C.E., possibly successor to Serket (or possibly the same person). May be the same person as Menes (first Pharaoh in Manetho's list). His wife may have been Neithhotep A. His sons may have been Hor-Aha and Djer.
See list of Pharaohs.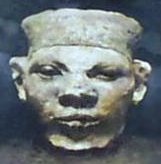 picture courtesy of
John Moore's the Ancient Egyptians were Black
Narmer means The Striker and that may be short for Horus is the Striker.
Narmer may be the same person as the person the Greeks called Menes the Unifer. Manetho attributes Menes as the first Pharaoh. Some Egyptologists claim that Menes is the same person as Hor-Aha (Horus Akha). There is no ancient mention of Menes prior to Manetho. Kinglists in the tombs of Den and Qa'a list Narmer as the founder of their dynasty.
The Narmer Palette (a large slate palette show below) was discovered in 1898 in Hierakonpolis by a team led by J.E. Quibell excavating the royal residences of early ancient Egyptian pharaohs at Hierakonpolis in Upper Egypt. The Narmer Palette is traditionally interpretted as commemorating the unification of Upeer Egypt and Lower Egypt into a single nation, the first nation in human history.