Belladonna is a plant and an herb.
botanical information:
Botanical name: Atropa belladonna
Common name: belladonna
Use the botanical name when ordering seeds (bulbs, etc.) or when looking up information in the library. Common names vary by nation, culture, and region, and sometimes the same common name is applied to different plants.
magickal correspondences and uses:
Gender: feminine (traditional western European magickal gender)
Magickal uses: Used in medieval flying ointments (symptoms of belladonna poisoning include vivid hallucinations and a sense of flying).
Magickal substitutions: Rosemary usually may be safely substituted for any herb in magick spells and rituals. Roses may safely be substituted for any flower.

Magical Uses

astral projection
(DEADLY POISON!)



information courtesy of


ancient myths and beliefs:
Religious uses: Roman soldiers used belladonna (which they called bellona) to create a battle frenzy. Priests of the Roman Goddess Bellona (wife, sister, or daughter of Mars) used belladonna in religious rituals. Bellona represented the frenzy of battle.
deities associated with belladonna:



cautions and contraindications:
Cautions and contraindications: Belladonna is one of the most toxic plants in the Western hemisphere. A few berries or a leaf can kill. The root is the most toxic part. The toxin is tropane alkaloids. Symptoms of belladonna poisoning are the same as for atropine and include dilated pupils, tachycardia, hallucinations, blurred vision, loss of balance, feeling of flight, staggering, a sense of suffocation, paleness followed by red rash, flushing, husky voice, extreme dry throat, constipation, urinary retention, confusion, and death. The antidote is physostigmine or pilocarpine. Belladonna can kill pets and livestock.
Some herbs may be poisonious under some conditions. Exercise appropriate care.
Wild gathering: Avoid wild gathering. Some plants are endangered species. Some plants can be toxic just by touch. Even experts can make deadly misidentifications of wild plants. Please grow your own herbs in your own goddess garden (or window boxes).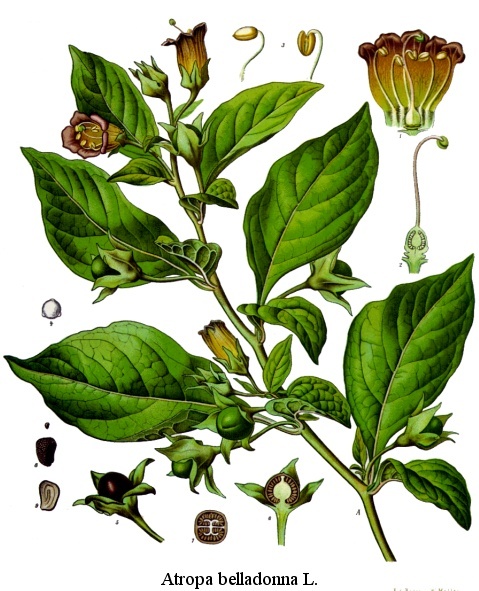 from Koehler's Medicinal-Plants 1887
See also: herbs