Summary: Ariadne is the Minoan High Fruitful Mother Goddess.
names:
name: Ariadne
(NOTE: In addition to native variations by locality or over time, there are often several possible transliterations into the Roman alphabet used for English.)
magickal information and correspondences:
planet:
Planet: Moon

other:
Ariadne — Ruled by priestess-queens for two millennia, it was in Crete, for the last time in recorded history [that] a spirit of harmony between men and women as joyful, equal participants in life [pervades], says Eisler. Minoan culture was a Goddess-worshipping inheritance from Egypt, later passed on to Mycenaean Greece and Philistine Canaan. Ariadne, the High Fruitful Mother, is a lunar fertility Goddess whose athletic prowess evolved into huntress Diana and many-breasted Ephesian Artemis. Serpents, symbolic of rebirth, were ritually handled by her oracle-giving priestesses, whose bare-breasted costume suggest the sacred role of sexuality in the culture. Trances and ecstatic dance celebrated the annual rebirth of Ariadne's son-lover Dionysos (Deo Knossos). The sudden end of Crete's peaceful matrilineal Golden age through flood and earthquake gave rise to the Atlantis legend. Shown [right] is the 8 inch handpainted version. [Below] Here's what the statue looks like in plain finish. —picture and text © 1996 JBL Statues (now called Sacred Source), original text created by Tom Laudeman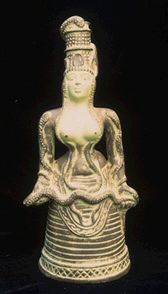 Picture courtesy of JBL Statues
this reproduction was sold by Sacred Source
JBL Statues is now Sacred Source
religious title certificate

Get a beautiful certificate declaring that you are a priestess, priest, high priestess, high priest, witch, or shaman of Ariadne. This is a real religious certificate meeting government standards for conducting marriages and other ceremonies.
external links:
If you follow any of the links offered on this web site, no spell begging. Especially no love spell begging.
If you have an Ariadne-related web page, please send the URL to Milo. Please indicate if there is a picture on your web page.