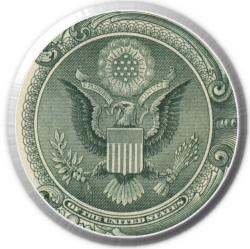 Thirteen (13) has the primary numerological meanings of abundance, certainty, and devotion.
See the main numerology article for instructions on how to do numerology.
Thirteen is the number of rebirth. The number 13 appears in the Great Seal of the United States (and the U.S. one dollar bill) in the number of arrows in the claws of the eagle and in the leaves in the olive branch in the other claw of the American blad eagle. This represents that the U.S. was a rebirth of a new nation dedicated to civilization at its highest.
See also: numerology