Earth is one of the four basic Western magickal elements.
The basic earth spell: Place enchanted herbs into bag or other simple container. Go out into the wilds (in suburban or urban areas, try to find a place with real dirt that is unlikely to be disturbed). Dig a small hole (a few inches or centimeters deep). Pour the herbs into the hole while visualizing the magick effect desired. Any additional chants or rituals may be performed, especially if they help you with magickal visualization. Cover the hole and leave. The spell is done.
herbs associated with earth:
examples of earth pentacles
The following examples of elemental earth pentacles are from Earth Spirit Emporium. Many of these examples are still available for purchase, but as time passes some will no longer be offered.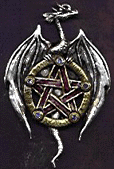 Earth Dragon Pentacle
"Earth Dragon Pentacle: Pentagram's magic and skill clasped secure within Dragon's legendary might manifests protection from betrayal. Produced in pewter, enhanced with Swarovski crystals and/or gold and provided with a chain. 2" x 1 1/2"" — Earth Spirit Emporium (note that products and availability may change over time)